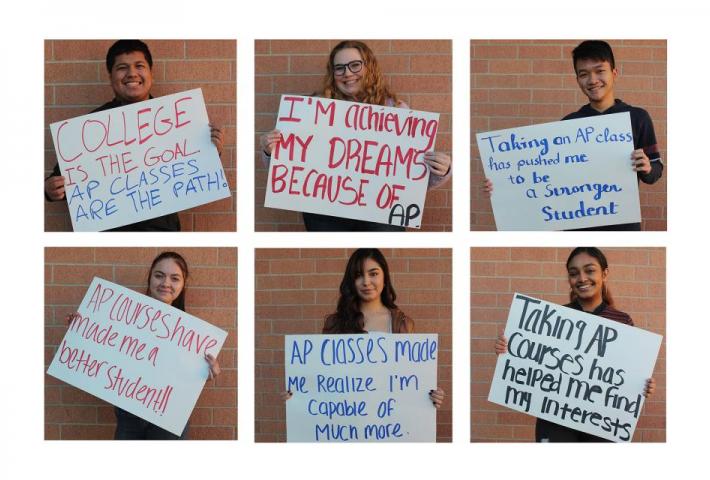 The Advanced Placement Program at FCHS is our most academically challenging and rigorous pathway.  
At FCHS we offer a wide range of Advanced Placement courses, and we teach them very well.  Advanced Placement courses are not only the best college preparatory courses available to high school students, but students may also earn university credit toward a bachelor's degree. Research has consistently confirmed that students who complete AP courses are well-prepared for the university challenge and are highly successful in their quest to obtain a college degree. Because we offer such a wide range of AP courses and there are no pre-requisites for enrollment, all students are encouraged to pursue their passion in one or many AP courses. 
Our FCHS students consistently outperform local, state and national averages on the highly competitive national Advanced Placement exams taken in May each year.  Because of their outstanding performance, FCHS student are eligible every year for literally hundreds of hours of university credit and many receive recognition as AP Scholars.
Our AP teachers are some of the most highly educated in the Poudre School District, with almost all of them holding at least one master's degree, and several holding more than one graduate degree. FCHS students receive university-level instruction, using the same text and materials as their counterpart courses in the university.  We are the only high school in Poudre School District selected to offer the prestigious AP Capstone (Seminar & Research).
We are excited to offer the Advanced Placement courses: Biology, Calculus AB, Calculus BC, Capstone (Seminar & Research), Chemistry, Comparative Government & Politics, Computer Science A, Computer Science Principles, Environmental Science, French, German, Human Geography, English Language & Composition, English Literature & Composition, Macro-Economics, Micro-Economics, Music Theory, Physics B, Psychology, Spanish Language, Statistics, Studio Art, US Government & Politics, US History, and World History (Ancient & Modern).
AP Endorsed Diploma
FCH is proud to be the first high school in Poudre School District to offer an Advanced Placement Endorsement.  Students who meet the rigorous criteria outlined below will be awarded a diploma with an embossed, gold seal and a special designation on their diploma cover, and will be honored at graduation.  
Completion of five year-long Advanced Placement courses in at least three of the six distinct academic areas: The Arts, English, Mathematics, Science, Social Science, and World Languages.

The completion of two semester-long courses will count for one year-long course (ie: Macroeconomics and Calculus BC).

Students must complete each semester of each course with at least a B.

Student do not have to meet an overall grade point average or take any of the national AP exams to quality for this endorsement.

Completion of one semester of a year-long course does not meet the requirements for this endorsement.
If you believe you will be eligible for this endorsement with the completion of coursework this academic year, please submit the AP Diploma Endorsement online form.
AP Test Prep Resources
Students and staff at FCHS have access to Albert.io for interactive practice of Advanced Placement content.  Please see your AP teacher to enroll for your AP classes.